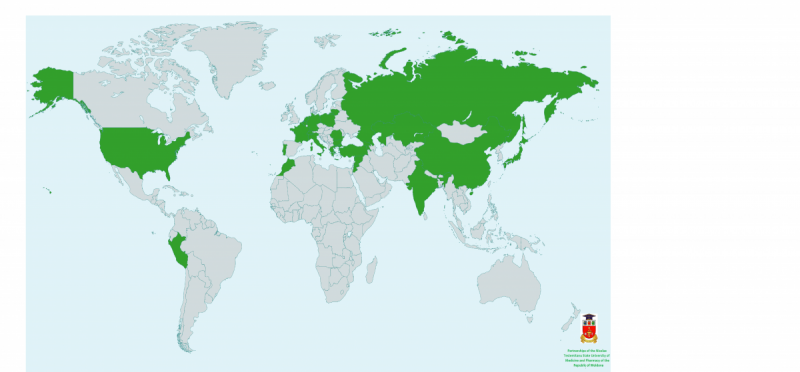 Our objectives and main functions
One of the most important objectives of DIREI is based on establishment and initiation of partnership agreements with medical universities and other institutions and organizations from abroad, identification and proposal of possibilities for implementation of planned activities according to joint agreements and elaboration, monitoring and management of projects and programs for training, research and institutional development.
In order to achieve its objectives, DIREI has the following functions:
- analysis and submission of proposals for strategically development of the University according to the National Politics of Health, the Strategy for Development of Health System for 2011-2017 and Strategy of the State University of Medicine and Pharmacy Nicolae Testemitanu Development for 2011-2020.
– studying the needs of the higher education system in the Republic of Moldova and directing the cooperation activities with the University's partners in accordance with these needs;
– establishing, maintaining, developing and coordinating collaboration partnerships with higher education institutions and hospitals from abroad to identify the resources needed to develop cooperative activities of common interest, as well as looking for external funds to support training, research and development activities;
– consultation of students, residents, PhD students, researchers and collaborators of the University in the initiation and application to international projects and programs of internships for scientific training and research, competitions and international conferences;
– maintaining relations with representatives of international organizations (UNESCO, WHO, UNICEF, SOROS, etc.) and Development Agencies, representations of advanced economies in the Republic of Moldova (AUF, DAAD, ADCE, French Alliance etc.);
– organizing and assisting the visits of delegations from abroad;
– organizing and participating in the selection of persons competent to participate in international academic and institutional projects and programs;
– ensuring the coordination of the University's activity with the Moldovan authorities in the field of international cooperation;
– dissemination of information to university subdivisions about new calls and opportunities for application of research, training or internship projects within bilateral cooperation (University's website, billboards, telephone, emails, etc.).